Luis Ramos Makes a Better Cocktail
A few months ago, Luis Ramos made my day…my birthday to be exact. As a surprise, the Northern California mixologist was contacted by a mutual friend to help make my day one to remember. As former bar manager at Bourbon & Branch in San Francisco, and the casually inventive Oakland restaurant Duchess, Luis took us in and delivered a rich dining and drinking experience.
The epicurean impresario took care of us, serving as maître d', waiter, mixologist, cocktail sommelier (if such a thing existed he would be it) and everything in between. The food and drinks (the braised lamb was lit), combined with the staff and experience at Duchess, attained a rare level of service and atmosphere that compelled me to find out just what drives a man so intent on pleasing his guests.
Originally from Puerto Rico, Luis moved to the US mainland in 2001 when he was nine. In Pacifica until he was 18, he then made the move to San Francisco to begin working and to pursue his dreams. I caught up with Luis shortly after our experience to discuss his past, his present and understand what motivates what I can only term his "art of indulgence".
Unsolicitd: What's your background? How did you get interested in making cocktails?
Luis Ramos: I got into this by accident. I was working at a café at 19, going to school for engineering at a community college and had good grades. But one day, I got up and never went back.
I was working at the café and one day one of the bartenders asked if I wanted to barback at Absinthe (in Hayes Valley). At first I hated it. I would get yelled at because I didn't know where anything was and basically didn't know what the fuck I was doing. About a year later I started bar backing at Foreign Cinema. What kind of kid doesn't like that? I started reading more, I started asking a lot of questions of the bartenders, and, as a result, I learned a lot.
When I turned 21, I started tending bar at Foreign Cinema – this is around 2012 – and I gave up barbacking at Absinthe. Shortly after that I left to manage the bar at Bourbon & Branch…I started tending there when I was 22. Two years after that, I started managing at Swig, and then became GM of the bar. Along the way, what fueled my ability was that I learned to deal with volume bartending, and learned the craft cocktail side. In 2017, I came out to Duchess.
What I like about being a mixologist is it's a great way to showcase a creative side while also being social with our customers. I'm educating myself on what's going on (in hospitality) and working with young, like-minded people who are passionate about having fun.
Unsolicitd: I'm curious, what cocktail do you enjoy making the most, and why?
Luis Ramos: I guess my favorite situation is when somebody gives me free reign. I talk to them to see what they like, what they don't like. I look at everything from what they're wearing to what they're vibe is so I can make them something special, based on their personality. If I can get someone to smile…then that's the feeling I'm trying to recreate, in a drink.
Unsolicitd: What's the most important thing you've learned about crafting cocktails, or tending bar?
Luis Ramos: Starting at Absinthe and Foreign Cinema established my base. It taught me the fundamentals about being a proper bartender. Today there's a lot of showmanship, and making cocktails with crazy ingredients. That's ok, it has its place, but when you get down to it we're in the service industry.
Most importantly, and very early on, I learned how to be of service to people. I make it a point to say 'my pleasure' as opposed to 'thank you'. That ethos set the tone for my career, learning proper service and the right way to tend a bar. Once you have the basics of controlling the tempo and the crowd down, you build upon that by learning how to make people happier than when they came in. I wouldn't trade that knowledge for anything else. It was hard won, and came after a lot of pain and tears (laughing).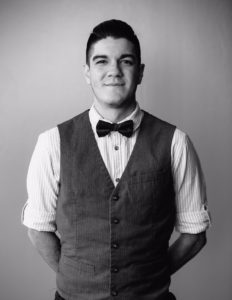 Unsolicitd: What differentiates your craft from other mixologists?
Luis Ramos: Actually, I try not to compare myself to other people. I try to be a perfectionist, which comes down to two things: my cocktails and my service. I'm my hardest critic, like, I can make something I like one day, but the very next day I'm thinking about how I can improve upon it, make it better. I cling to my own style, though I'm a hybrid of what I've learned, and there are lot of us in this industry who are always pushing, are never content, and can't really be happy until the craft is perfect…and its never perfect.
Unsolicitd: What's a tip you would give the home bartender? 
Luis Ramos: Just to not worry about learning recipes. There's no reason to memorize many of them. Make some stuff for fun, and then go along with what you want. Have basic ingredients and, most importantly, have fresh ingredients because there's no replacement for them. Grab a few fun cocktail history books here and there on subjects such as how to make you own home ingredients, how to make your own bitters…
Unsolicitd: What do you see yourself doing in a few years?
Luis Ramos: I get this question once in a while. At the moment it's to continue to work and continue bettering myself, the end goal is the end, when I die. In a few years, I'd like my own bar, I'd like to design it to my specifications and make sure it's tended with my ethos. For me, it's important to continue to push standards and to help this industry grow.
---
Luis Ramos is a mixologist and bar manager, who's original cocktail recipes helped win Duchess the restaurant's 'best cocktails' designation from SF Magazine.
UPDATE: Duchess recently announced the restaurant will be closing in 2018. You can now find Luis at The Miranda in Oakland.